ALRESFORD FIREWORKS AND BONFIRE FRIDAY 3rd NOVEMBER 2023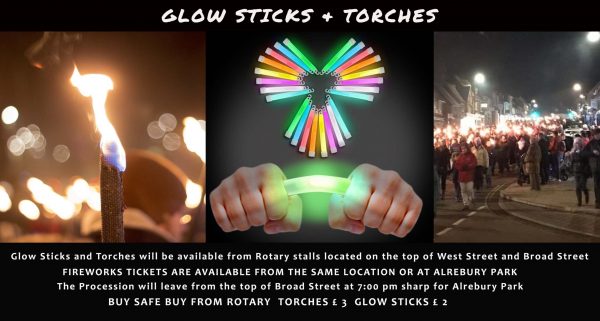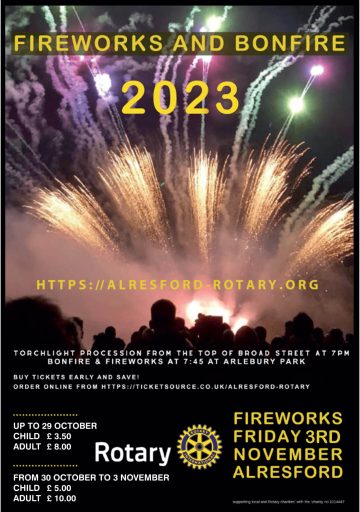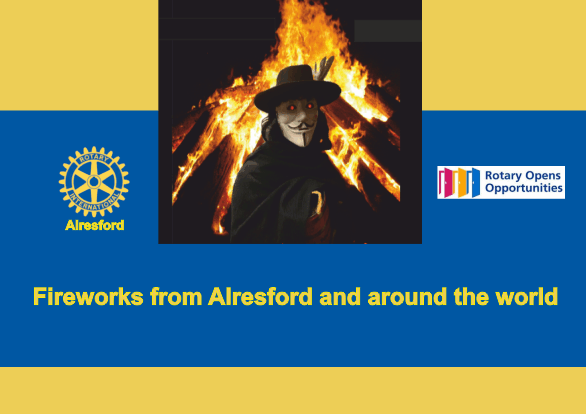 Alresford Rotary was formed in 1987, aiming to provide people with an opportunity to get involved in local and international community projects and meet like-minded people in the local area. 
Hands-on volunteering, fundraising, running local events and sharing our skills to help local and international charitable causes  – these are just some of the activities we get involved in.
THE TRADITIONAL ALRESFORD GUY FAWKES NIGHT
Alresford Rotary has for over 27 years prided itself on organising the traditional Guy Fawkes Bonfire and Fireworks Night. The event is an important part of Alresford's festive calendar and help to raise funds for those less fortunate in our local community and people around the world.
The Torchlight Procession starts at 7:00pm from the top of Broad Street  with the procession following the Alresford Fire Engine with an effigy of Guy Fawkes onboard to Arlebury Park. Torches will be on sale around Broad Street.
The Bonfire will start at 7:45pm at Arlebury Park followed by  traditional Fireworks at 8:00pm.
BUY YOUR TICKETS EARLY AND SAVE!
Purchase your tickets on-line from: https://ticketsource.co.uk/alresford-rotary  (A booking fee apply)
TICKET PRICES:
UP TO 29 OCTOBER
Child between 5-16  £3.50
Child under 5 FREE
Adult £8.00
FROM 30 OCTOBER TO 3 NOVEMBER
Child between 5-16 £5.00
Child under 5 FREE
Adult £10.00
CAR PARKING:
Disabled visitors:
Drop off in Alrebury car park only BEFORE 6:30 PM.
Disabled visitors with BLUE BADGE permits can park in Arlebury carpark ONLY BEFORE 6:30 PM.
PLEASE PRINT YOUR ON-LINE TICKET AND BRING IT TO THE VENUE
Entry to this event is by eticket so please bring your eticket with you when you come along to the venue. It is your responsibility to keep this eticket in a safe place as you would money or regular tickets. If your eticket is copied, it will be invalidated by our security system preventing entry to the event.
TICKETS WILL ALSO
BE AVAILABLE ON THE EVENING FROM THE
GATE AND THE TOP OF BROAD STREET