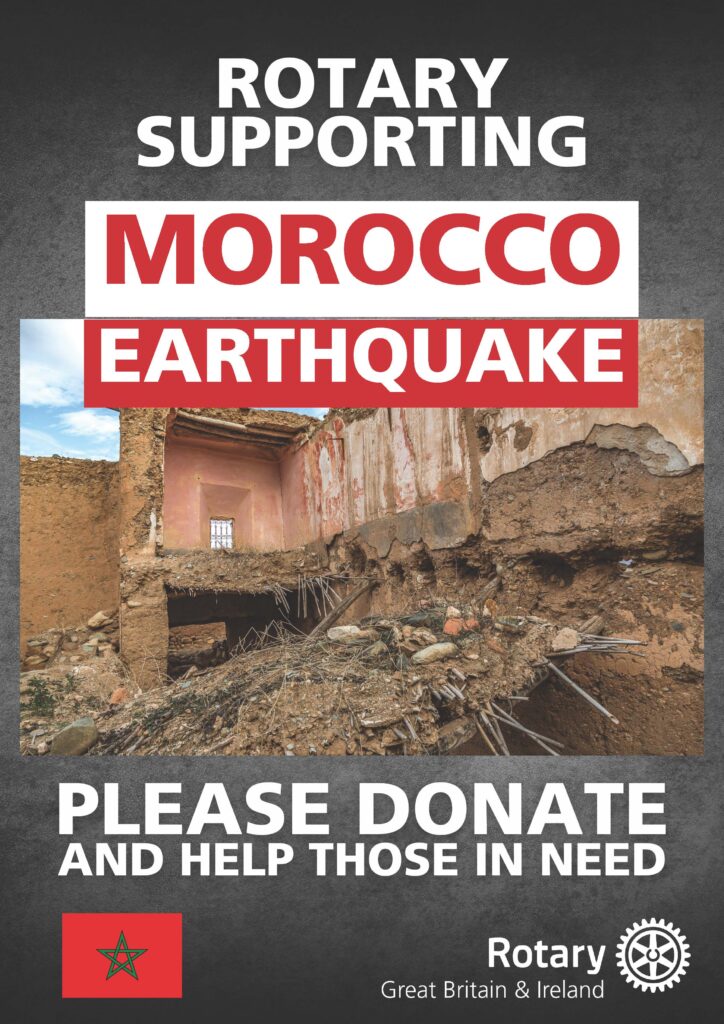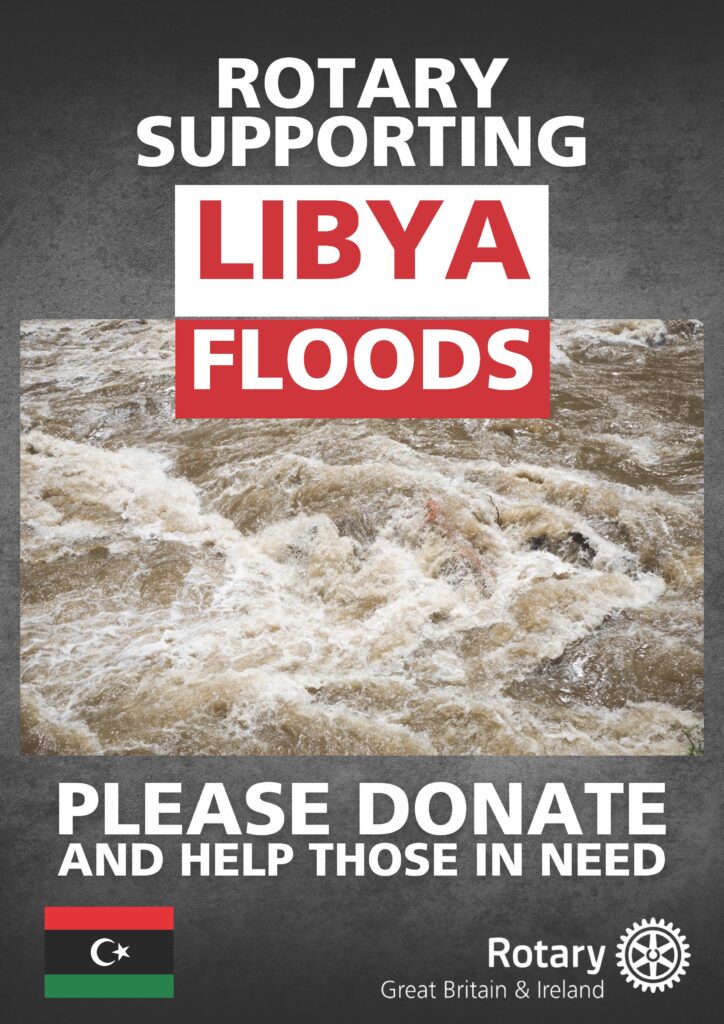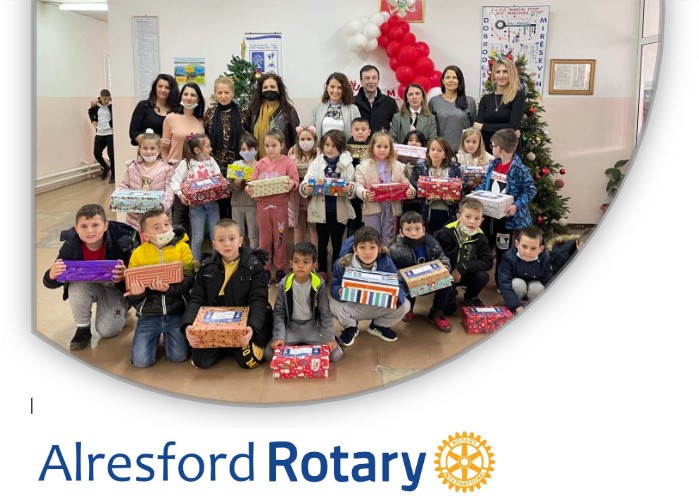 What happened to your Christmas boxes last year!
For many years local schools and other organisations and individuals in the Alresford area have taken part in the Wessex Rotary Christmas Shoebox scheme, generously giving presents to disadvantaged and displaced children in Eastern Europe. This year boxes will be sent to Moldova, Montenegro, Poland, Romania and Ukraine. Rotary is often asked what happens to the shoeboxes once they are collected and although, being a worldwide organization, Rotary has always been able to ensure the boxes reach their intended recipients, better feedback has been needed and has now been achieved! Click on: https://www.alresford-rotary.org/christmas-boxes to see what happened to your boxes last year.
Can you think of a good reason not to be involved? For copies of the scheme leaflet, boxes or further details please contact [email protected] Filled boxes must be ready for collection by the week beginning 30th October.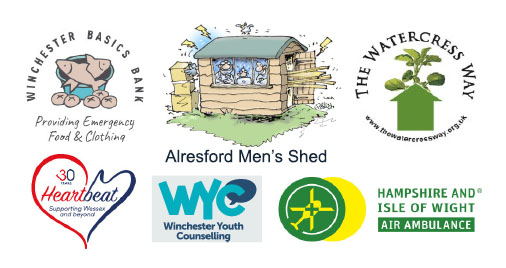 Making a real difference locally and internationally
The Rotary year July 22 to June 23 has been a busy and successful year for Alresford Rotary. We judge success by our various fundraisers, the great causes we supported and the number of new social events that all helped us grow our reputation locally and led to growing membership. Let's look back and see what we achieved.
Which Rotary events contribute to most of our fundraising? The Alresford Bonfire, Fireworks and Torchlit Parade remains our largest fundraiser. A lovely evenings' weather helped boost attendance to several thousand happy local visitors. The fundraising continued with the Rotary Annual Christmas tree sale on Broad Street and our sell out, 'Probably Mid-Hampshire's Quiz of the Year'. The Alresford 10K Run again proved popular although the hot weather was a bit much for some. These, plus several small fundraisers across the year helped boost our charity coffers.
Where does our fundraising money go? The good news is that 100% goes to good causes in the form of local or international charities. None goes to fund our club operations.
Where have we donated our funds this last year? On the international side, we have made use of our global Rotary family (the worlds largest volunteer organisation with 1.4 million members globally). Rotary is well positioned locally in both Ukraine and Turkey/Syria to assess the real needs and we channelled our funds to where it's needed most. Through this we provided shelter for the homeless and support to those displaced.
Which local charities have benefitted this last year? We have supported several local charities. Local to Alresford we supported new tools for the Men's Shed and supplies for the food bank in Alresford run by Winchester Basics Bank. We also funded lunches for the Alresford Lunch Club for the Senior Citizens and supported new coaching sessions for children in Alresford run by Winchester Youth Councillors. We also supported the Watercress Way by funding new benches.
Rotary is a broad supporter of Wessex Heartbeat, that provides visitor support and research funding for the Cardiac Unit at Southampton Hospital. Alresford Rotary this year pledged support for updating Wessex House infrastructure.
The 10K Run proceeds went this year to Hampshire and IoW Air Ambulance, a vital service for the area. In addition, we have made smaller donations including to Sun Hill School Eco-Accreditation, Perins School and the Alresford Scouts.
We would like to thank all those who supported Rotary events this past year. Without your support we would not have been able to make such a real difference to those charities mentioned above. If you would like to find out more about volunteering at a Rotary event or becoming a member to benefit also socially, please email us at [email protected]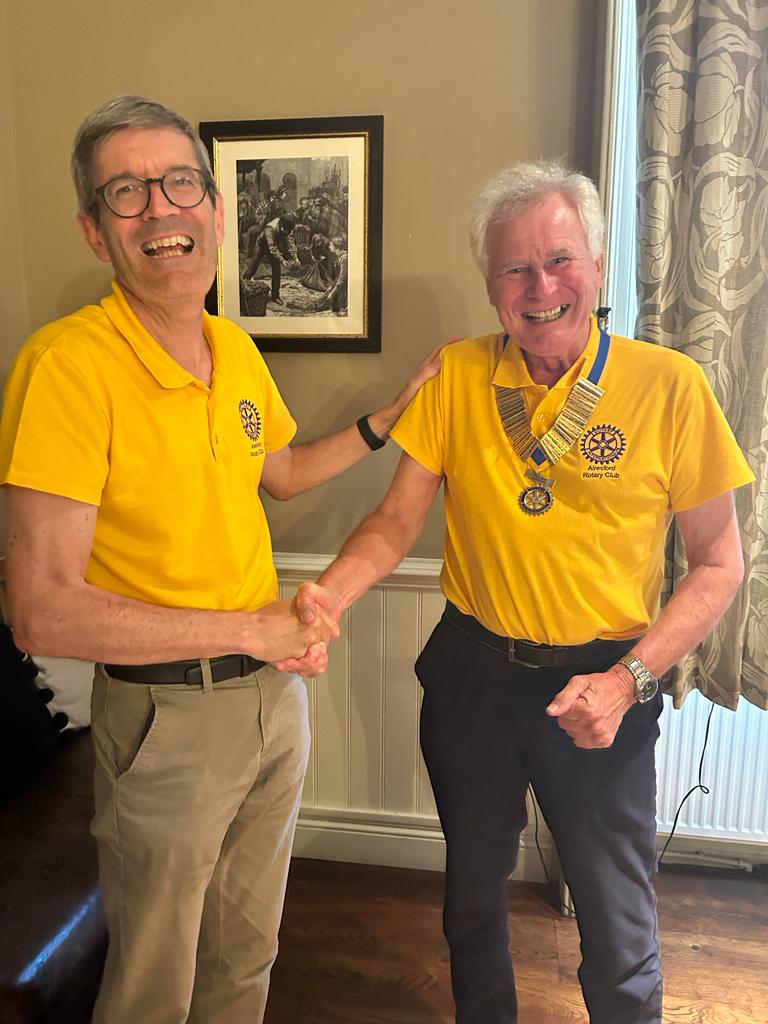 The new Rotary year started in July. Jon Pittam will be President for the next 12 months replacing David Marshall under whose enthusiastic leadership Alresford Rotary has continued to develop and flourish post Covid.
Alresford Rotary is a lively, expanding group aiming to recruit more members and Friends. Our membership is increasingly diverse – no longer just old men!  Involvement with Rotary need not involve significant expense nor more time than you can spare. Please let us know if you feel you can help Alresford Rotary on a regular basis or on occasions such as the 10k run to make even more of a difference, both locally and internationally!


      Left: David Marshall – Right: Jon Pittam
6 Rotarians and 2 partners went on this walk, hoping for better weather than the rained-out plans the previous week.  Starting at Oakhanger and avoiding the road closures and trench digging the team moved out past the radar domes of RAF Oakhanger heading for Binswood. The wood is owned by the Woodland Trust which provides 'free public access for quiet, informal recreation and our woods are managed to make them accessible, welcoming and safe'.
Binswood is an ancient semi natural woodland, national park, registered common land and site of special scientific interest.
The target butterfly was the silver washed fritillary which suddenly appeared as the sun came out on one of the drives. Other butterflies were abundant including small skipper, brimstone, large white, small white, small copper, holly blue, red admiral, peacock, speckled wood, ringlet, gatekeeper, meadow brown and marbled white. Also seen were brown hawker, emperor dragonfly and common darter.
Making a circuit through the woods the group returned via Short Heath Common, and its pond with water lilies, for a group photo. Followed of course by beer and lunch at the Hanger pub in Oakhanger.
Once again Rotary gave many visitors, guided tours of the Eel House in Alresford. Glorious sunshine helped bring many locals and a few from further afield to visit what is, one of the few Eel Houses still standing in the UK. The amazing life cycle of the Eel from birth in the Sargasso Sea, near Bermuda to Alresford and return home to die was explained along with details of the chalk stream flora and fauna. The Eel House is well worth a visit.
IF YOU GO DOWN TO THE WOODS TODAY
…. Or along the Arle footpath, Mill Hill to the Eel House, there is a surprise: new information boards along the route to inform and be enjoyed by children and adults, residents and visitors alike, because the river has an important story to tell about the many built heritage assets along its banks and the wildlife.
The project to 'capture' this story – called 'The Arle: History, Heritage & Future' – was possible thanks to the Watercress & Winterbournes Landscape Partnership Scheme, backed by Heritage Lottery funding, and with additional contributions from The Alresford Society, New Alresford Town Council, New Alresford Town Trust and Alresford Rotary.

On Sunday 18th June 429 runners braved hot and humid conditions to participate in the 15th Alresford Rotary 10k run, once again a fixture in the Hampshire Road Race League calendar attracting some of the best runners from across Hampshire and beyond. 
The threatened thunderstorms stayed away and the runners encountered hot sunshine and melting humidity. Harry Smith of City of Salisbury Athletics Club won in an impressive 32 minutes 32 seconds, closely followed by Fred Slemeck and Andy Greenleaf both of Winchester and District Athletics Club. In the women's race Tamsin Anderson from Winchester was the winner in 38 minutes 36 seconds with Caroline Brown from Liss Runners and Karla Borland, also from Winchester, coming in second and third. The rest of the field followed with some fabulous personal performances in trying conditions. The oldest runner in the race was Terry Blake in the over 80 category who finished in just under 1 hour and 20 minutes.
The winners received hampers of local goodies put together by the Arlebury Cafe which also baked hundreds of delicious cookies for the event. Avoiding imported medals and T shirts every runner received a UK sourced wooden medal sponsored by Winchester Auto Barn and watercress from The Watercress Company. The race was organised by Alresford Rotary with all profits going to support the work of the Hampshire and Isle of Wight Air Ambulance, which had a number of volunteers on site. The Rotary team are grateful for the significant assistance of students from Perins and local Scouts, Guides and Brownies who organised the water point on the route.
THANKS TO OUR 10K SPONSORS AND SUPPORTERS
The support of local businesses contributed greatly to the success of the event. Alresford Rotary thanks Winchester Auto Barn, The Watercress Company, Prospect Fencing, Chocolate Craft, The Arlebury Café, Hair Art, Winchester Blinds and Awnings and Charters.
Please contact [email protected] to discuss sponsorship opportunities.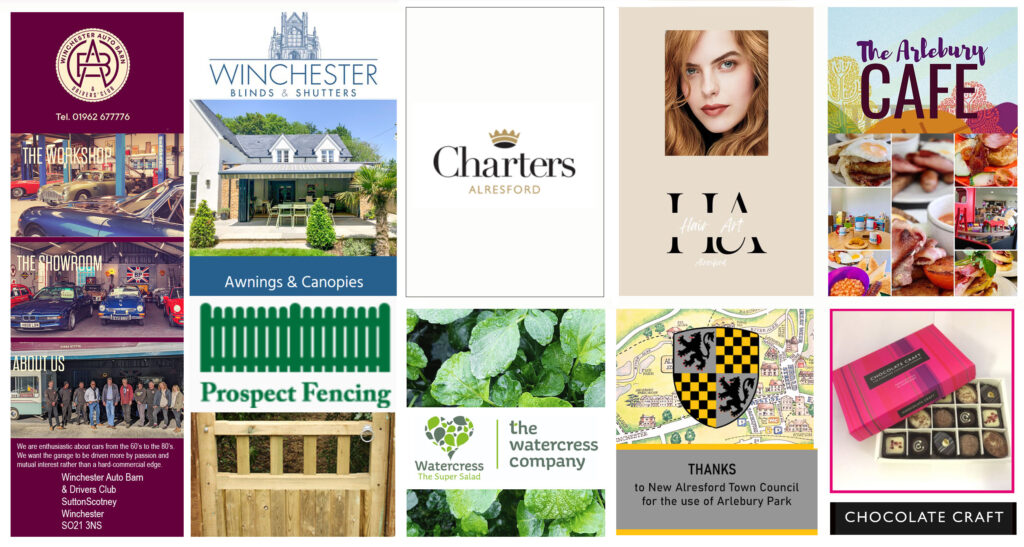 Your Support Makes a Difference!

"Probably mid Hampshire's Quiz of the Year"
lived up to its "modest" billing, selling out with more than six weeks to go before it took place on 31st March and in the wonderful surroundings of Itchen Abbas and Avington Village Hall, all present made good use of the bar, enjoyed lasagne from Soles Butchers and generously supported the evening's raffle, hoping to win one of the five prizes, each worth at least £50. In addition to a hamper of food and drink prepared by Becky Smith of the Arlebury Café, raffle prizes were kindly donated by Nony Kerr-Smiley, independent freelance estate agent (supporting Alresford businesses Suzie Watson, the Toy Box and Wild Bunch), and IVC – "Cars chosen with care".
The quiz questions were testing with "Ferrets Forever" coming through on the rails by playing their Joker (for double points) in the final round to amass a total of 72 points out of 90 and defeat Abraca-Tabrah by 2 points. A separate Table Top quiz was won by the Downers. "A good time was had by all" and most importantly more than £1600 was raised for Rotary's support of the humanitarian relief endeavours in Ukraine
10K run
This year's road race will start at 10.00 a.m. at Arlebury Park on Sunday 18th June. The main event will be preceded by a children's fun run for those aged up to 11 years old. For further information please see  https://alresford-rotary.org/10k-race/ 
Rotary is for all!
Alresford Rotary is a lively, expanding group aiming to recruit more members and Friends. Our membership is increasingly diverse – no longer just old men!  Involvement with Rotary need not involve significant expense nor more time than you can spare. Please let us know if you feel you can help Alresford Rotary to make even more of a difference, both locally and internationally!
Can Rotary help you?
Thanks to your supporting our fund raising events Alresford Rotary often has funds available to support "good causes" but it can only assist those of which it is aware! Please contact us if you think Rotary may be able to help.
 Helping keep Alresford tidy!
For many years Alresford Rotary has litter picked at various locations and along Tichborne Down and Sun Lane and did so most recently on 11th February. On Sunday 5th March (in conjunction with the Town Council's litter picking day on 4th March) Alresford Rotary will from 8.00 a.m. be tidying up Broad Street. All very welcome to join in!  
Please let us know at any time if you can help Alresford Rotary make even more of a difference, both locally and internationally or if you think Rotary may be able to help you!


Sun Hill Junior School 'Great Alresford Bake Off'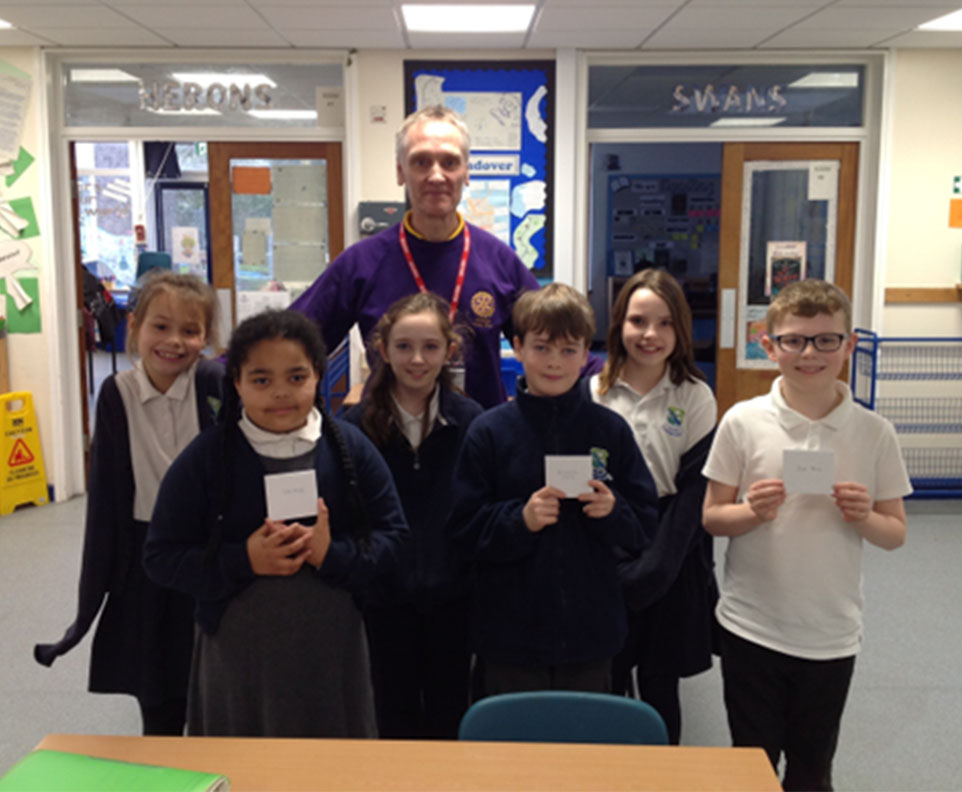 Prize winners with Rotary Judge Richard Barnes
Once again Rotary sponsored a successful baking competition for the Junior School with a fantastic response and amazing cakes and biscuits. Judging was tough but Rotarians Richard and David, with school judges Amy and Sue recognized the high quality and superb presentation of the winners. Well done to all the children that entered.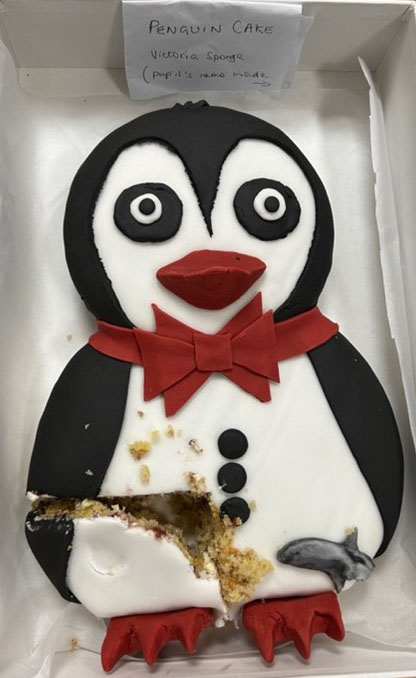 ROTARY YOUTH ART COMPETITION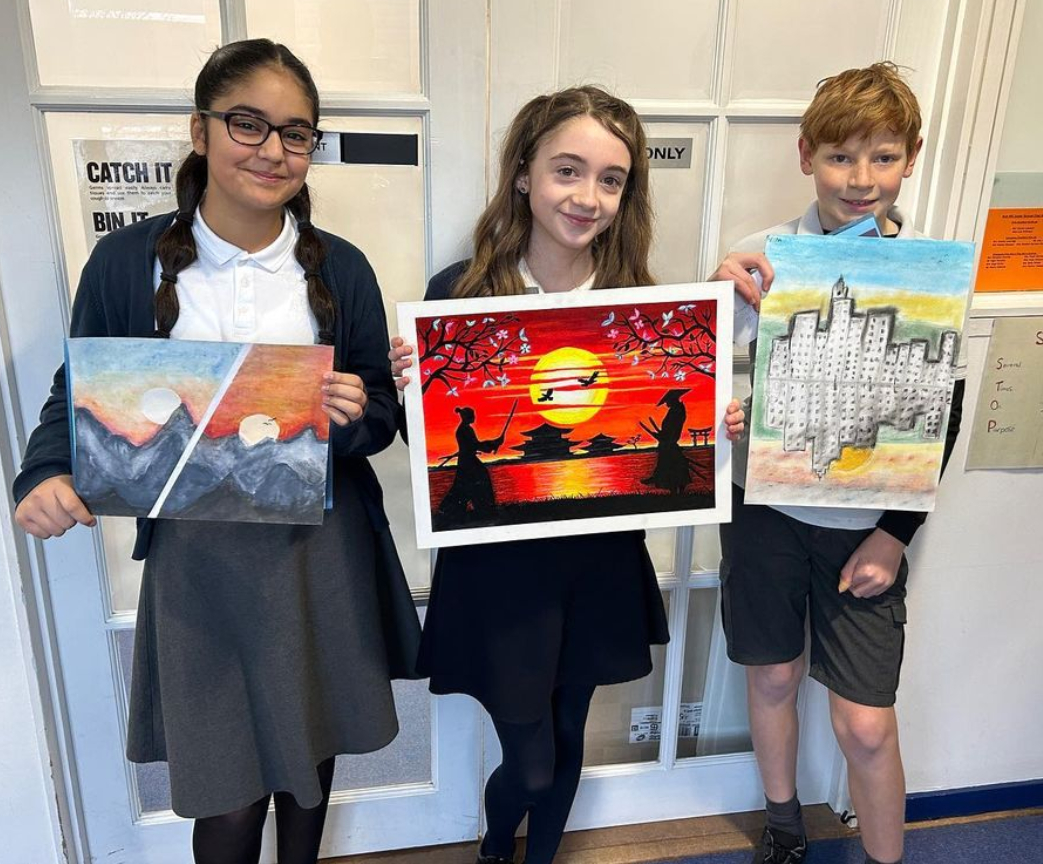 The next competition is for the Rotary Young Chef 'Bake Off' taking place soon at Sun Hill Junior School.


Some 25 Junior School students entered the recent Alresford Rotary Club Youth Art Competition. Such was the quality of the entries, that the club enlisted the help of local artist Julie Hepenstal to make the final decision.
Rotary president David Marshall attended Monday assembly to present book token awards to Lauren, William and Nia, and Lauren's winning entry will be submitted to the Regional and possibly the National Rotary competition.
'They display drawing skills, great use of colour and imaginative ideas. Well done everyone who entered. Keep painting ' – some of Julie's comments.
Thanks to Amy Craig, the Perins MAT, and Julie Hepenstal http://www.juliehepenstalart.uk
Making a Difference to Your Community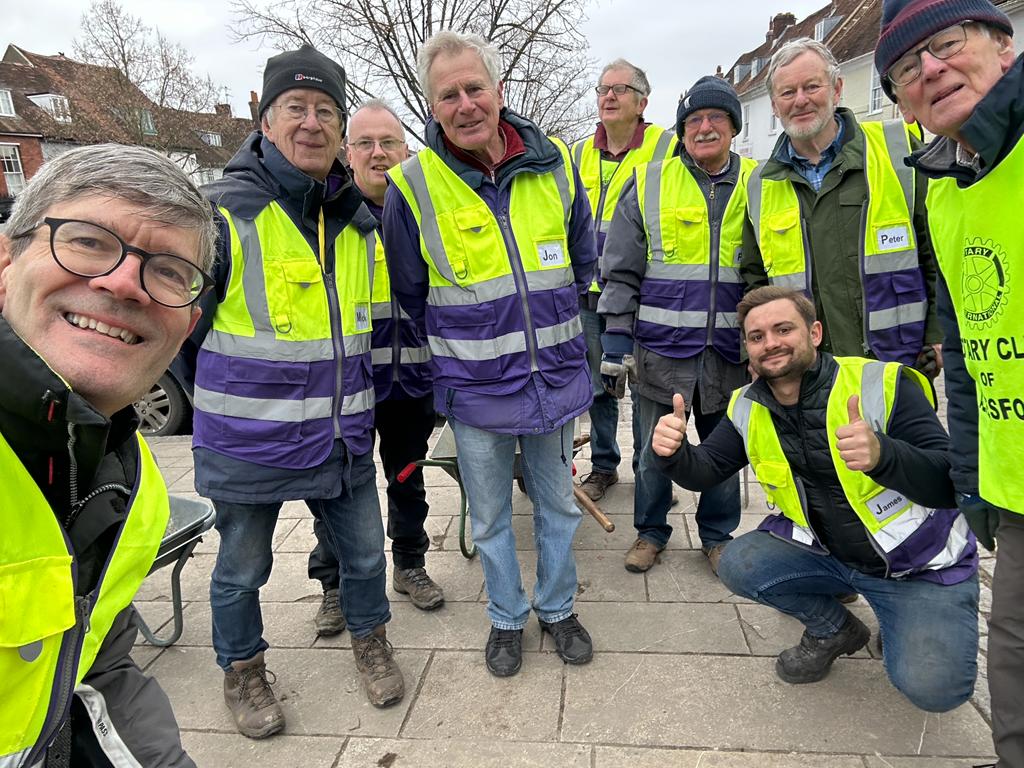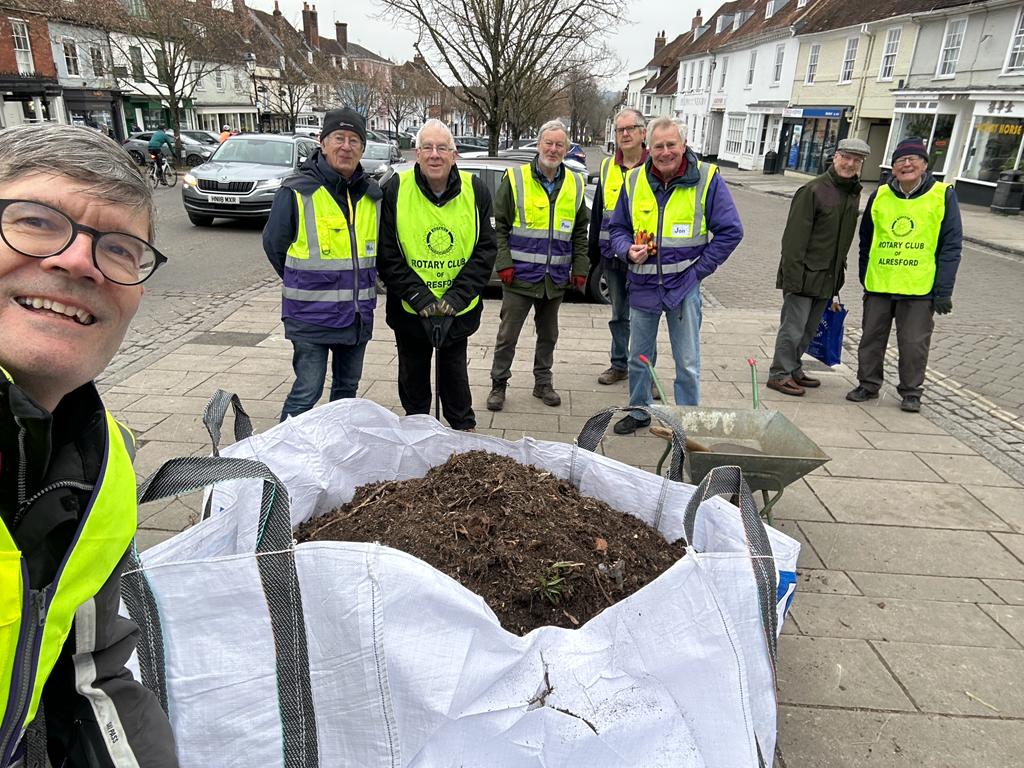 In conjunction with the Town Council's litter picking day Alresford Rotary spent a couple of hours on 5th March sprucing up Broad Street. We hope you have noticed the difference and we are grateful to the local residents tolerating the disturbance of their Sunday morning peace.
Alresford Rotary is for EVERYONE in and around Alresford! If YOU think you can help Alresford Rotary make a difference or if you think Alresford Rotary may be able to help YOU, please let us know!
ALRESFORD ROTARY SUPPORTS ROPLEY CHURCH

A visit to Ropley's newly reconstructed St Peter's Church was greeted with a hugely warming welcome by Rev Clare Welham. For anyone not aware, the church was almost burnt to the ground 8 years ago and has recently re-opened with a somewhat stunning merge of old and new.
Our visit was to view the beautiful vintage nativity figurines donated by Alresford Rotary member Hans Wustefeld replacing the church's own that was lost in the fire. To complete the display new stables funded by Alresford Rotary creates a peaceful nativity scene.
A warm welcome awaits everyone at St Peter's, whether a church regular or otherwise, this blissful space is very special, it is a must for a visit, its doors are open on a regular basis, so if you are passing through pop in and say hello to Rev Clare Welham who is leading the way towards making this beautiful space an essential and well equipped Ropley community hub.
The nativity scene was presented to the Rev Clare Welham by David Marshall, President of Alresford Rotary, and Rotarians Kim Boog and Hans Wustefeld. 
Happy New Year from Alresford Rotary
A big thank you
To the community and local businesses for the magnificent support you have given us last year! A few days after record numbers took part in the torchlight procession down West Street and Pound Hill to the bonfire and wonderful Fireworks display in Arlebury Park on November 4th we delivered over 300 shoeboxes of gifts for disadvantaged or displaced eastern European children to join more than 20,000 other gift boxes collected in the remainder of Rotary Wessex.  For many of the children the present of a Christmas shoebox will be the first present they have received in their life.
How can Alresford Rotary help YOUR community?
Please let us know! Rotary prides itself in continuing and developing community focus not only in New Alresford but also in the surrounding area, not only S024 but also GU32, GU34, RG25 etc postcode areas. If your community has a need we may be able to help, but that's not a possibility unless you contact us.
How can YOU help Alresford Rotary?
If you want to improve your community let us know. We're a lively, expanding group aiming to recruit more members and contacts. We're open to all – our membership is increasingly diverse, not just old men! Rotary is for all!  Involvement with Rotary need not involve significant expense nor more time than you can spare.
HIGHLIGHTS OF ALRESFORD ROTARY ACTIVITIES 2022
ALRESFORD ROTARY DONATES £ 2000 TO SHELTERBOX
Everyone deserves a place to call home. It is a human right and the first step towards recovery after disaster.
Shelter is so much more than just a roof. It's the foundation for life, families and communities. It is a place to feel safe after days or weeks of fear. It offers protection from harsh weather, privacy, and helps to preserve dignity. It's a space to heal from trauma.
Emergency shelter can also prevent communities from scattering. This means people stay connected and build resilience together.
When you don't have to keep moving or worry about where to sleep at night, you can think about tomorrow. Items like tents, tarpaulins, tools, blankets, mosquito nets, cooking sets and water filters help to meet the most urgent needs, so you can start to earn a living, send children to school and rebuild your home.
Recovery doesn't happen overnight, but a dry and warm place to sleep, prepare meals and be with your family is the vital first step.
Alresford Rotary is supporting Ukraine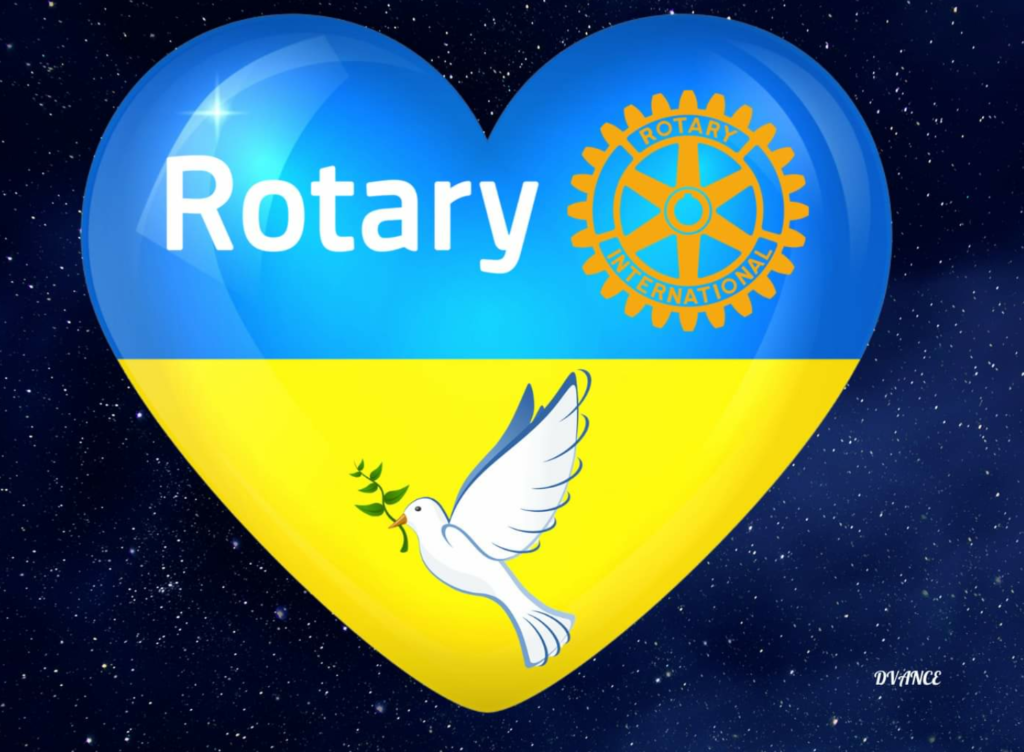 It is a tragic and sad time for the people of Ukraine and the world. At Alresford Rotary, we are deeply concerned by the devastating situation as the cornerstone of our organisation is that of peace.
Alresford Rotary has made an initial  donation of £ 1000.
The fund is a group effort across Wessex Rotary Clubs to build a fund that can provide enduring help to the people of Ukraine as this humanitarian disaster unfolds.
We will release more information on how you can support specific initiatives soon.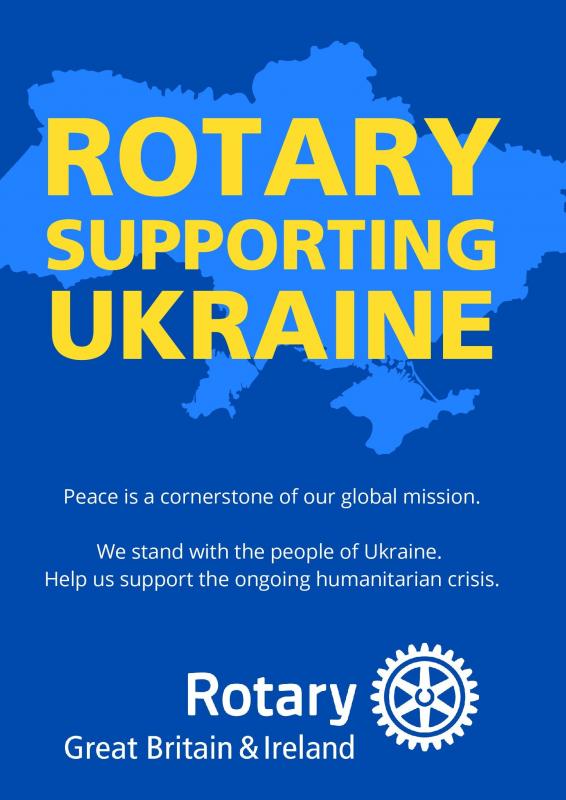 THE ALRESFORD ROTARY UKRAINE JUSTGIVING SITE IS NOW OPEN

JUST CLICK ANY OF THE PHOTOGRAPHS AND DONATE
UKRAINE NEEDS YOUR HELP NOW!
Alresford's Avenue in Bloom
Spring each year sees a beautiful purple carpet of crocus blooming in many communities across Great Britain and Ireland thanks to the Purple Crocus Corm planting to raise awareness of the Rotary fight for a polio free world.
Planting the purple crocus corms by Rotary and many community groups is a great way of getting active, having fun and talking to lots of different people about the need to eradicate the life threatening and disabling polio virus.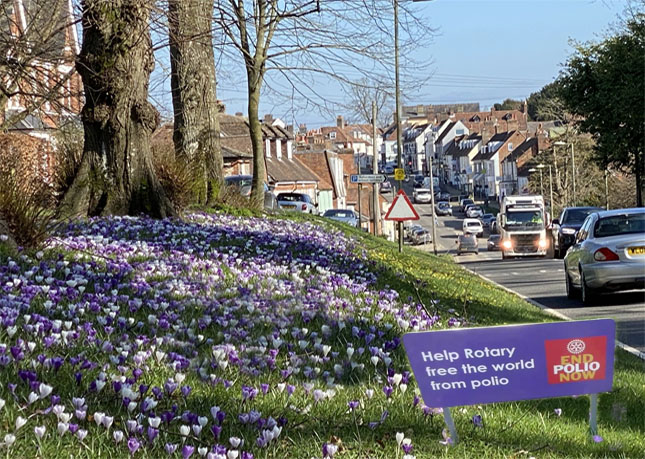 As a founding partner of the Global Polio Eradication Initiative, we've reduced polio cases by 99.9 percent since our first project to vaccinate children in the Philippines in 1979.
Rotary members have contributed more than $2.1 billion and countless volunteer hours to protect nearly 3 billion children in 122 countries from this paralyzing disease.
Today, polio remains endemic only in Afghanistan and Pakistan. But it's crucial to continue working to keep other countries polio-free. If all eradication efforts stopped today, within 10 years, polio could paralyze as many as 200,000 children each year.
Rotary is an international service organization whose stated purpose is to bring together business and communities in order to provide humanitarian service and to advance goodwill and peace around the world.
Rotary is one of the largest voluntary service organisations in the world, open to everyone, where members can give as much time as they wish, helping with local causes and events, combining friendship and networking. 1.2 million Rotarians worldwide see solutions not problems and make things happen and make a difference, promoting peace and helping others in communities around the world every day to fight life threatening diseases like Polio, HIV/AIDS and Malaria and to provide and maintain clean water, sanitation and hygiene.
Rotary is dedicated to seven areas of focus the newest of which highlights the preservation of our planet and its resources. Rotary is committed to supporting activities that strengthen conservation, advancing ecological sustainability and fostering harmony between communities and the environment to build international relationships, improve lives and create a better world to support its peace efforts and End Polio forever.
Wild polio is now only endemic in two countries. (Nigeria was declared wild polio virus-free in September2020.)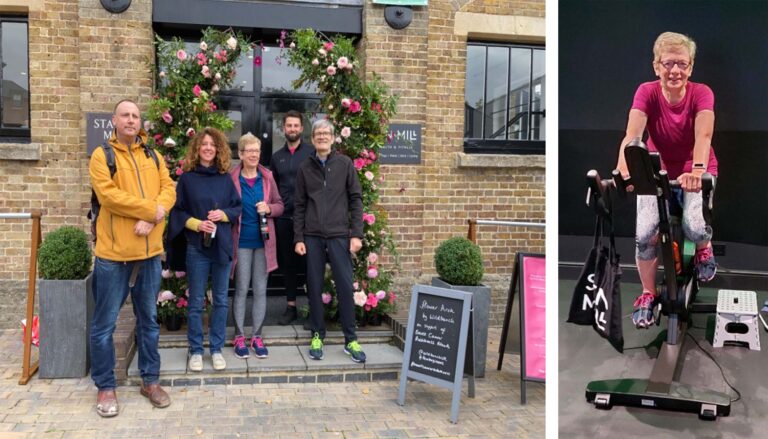 Alresford Rotary sponsored indoor cycle ride
The proud winners of the Alresford Rotary sponsored ride gathered for the prize giving today. Overall winner was Robert Meager who covered an amazing 21.4 miles in the hour. Ladies winner was Tessa Harding with an excellent 16.4 miles. Miranda Pinch won the seniors prize with 15.0 miles. Robert wins 2 months membership at Station Mill Health and Fitness whilst Tessa and Miranda win a pack of 5 classes. All three also received a bottle of wine for their endeavours. Thanks go to all competitions that helped raised money for Alresford Rotary Charity as well as Scott O'Shea, Director of Station Mill for sponsoring the event.
Photo: from left to right, Robert Meager, Tessa Harding, Miranda Pinch, Scott O'Shea, David Marshall.
Alresford Rotary was formed in 1987, aiming to provide people with an opportunity to get involved in local and international community projects and meet like-minded people in the local area.  Hands-on volunteering, fundraising, running local events and sharing our skills to help local and international charitable causes  – these are just some of the activities we get involved in.
We value diversity, equality and inclusion. Rotary celebrates and welcomes people of all backgrounds, regardless of their age, ethnicity, race, colour, abilities, religion, socioeconomic status, culture, sex, sexual orientation, and gender identity.
Explore this site to find out more about Rotary locally and globally and follow us on Facebook and Twitter. We would love to hear from you if you'd like to get involved or have a project you like us to help with. Alresford Rotary is a registered charity. The Rotary Club of Alresford Trust Fund is a registered charity (Charity Number: 1014447)
Some of Alresford Rotary Community Projects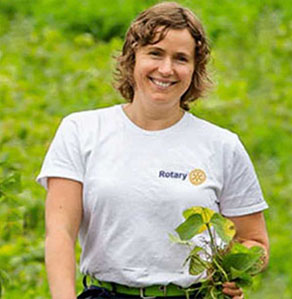 We at Rotary share an interest in protecting our common legacy: the environment. We are committed to supporting activities that strengthen the conservation and protection of natural resources, advance ecological sustainability, and foster harmony between communities and the environment.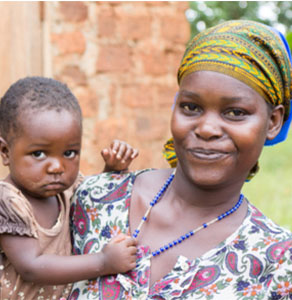 Rotary is especially dedicated to ending polio and since 1979 its members have donated money, lobbied governments, provided practical support to deliver polio vaccines and volunteered at national immunisation days in all corners of the world.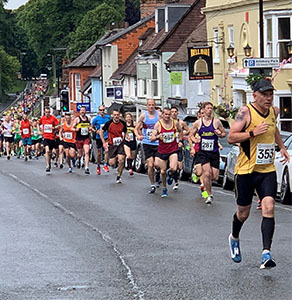 It's often said that society works better when communities work together. From food banks to flood relief, marathons to festivals, Rotary is always making a difference in our communities. The opportunities with Rotary are endless
Now is the time to volunteer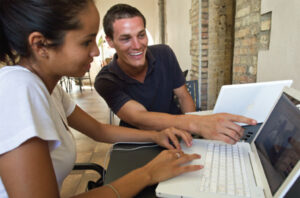 The Rotary motto is "Service Above Self" and Alresford Rotary has lived up to it in a big way. Most recently we helped raise spirits in COVID times by organising a successful Christmas Song Contest, raising funds for needy organisations in the area. With the Rotary Computer Project, we helped to source over 70 computers and upgraded them for reuse by local schools for those families struggling in lockdown with homes schooling.
We meet at present  on Zoom during Monday evenings at 8 pm so that we can continue to plan our community activities, support international projects, and of course have fun too!
Click here to volunteer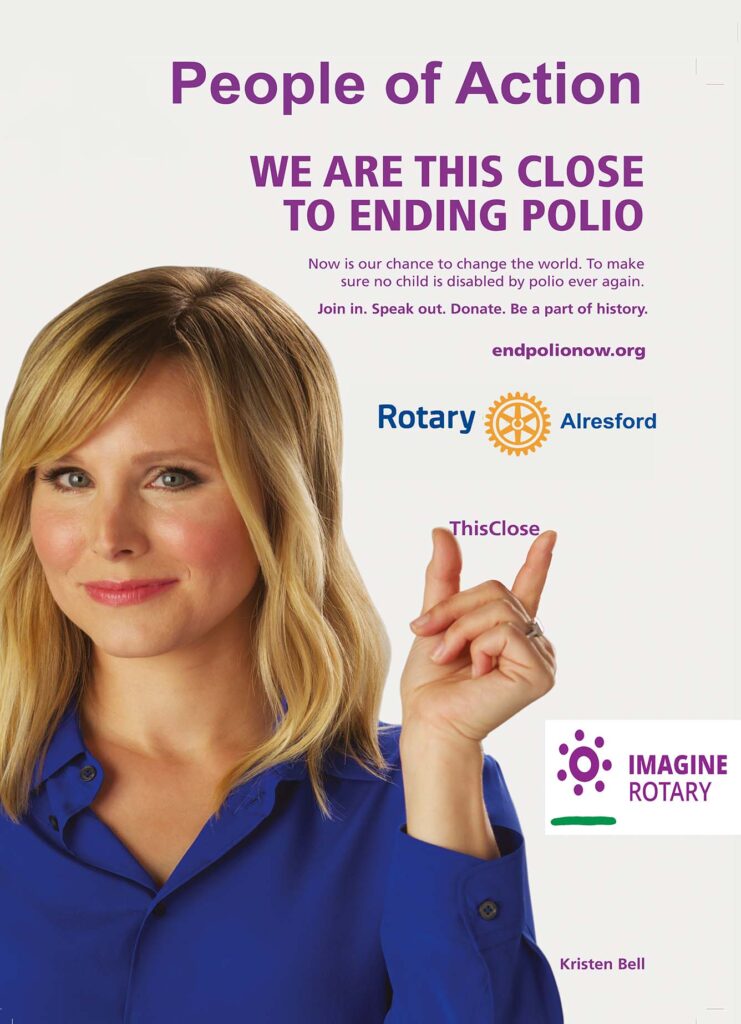 All very welcome at the Swan Hotel Undercroft Room at 7.30 p.m. on Monday 20th February to hear about  Rotary and its significant contribution to (very nearly) eradicating polio globally. In interview hear from Reg Ling, a driving force in Rotary, locally and internationally for more than 40 years with a particular involvement in the global Polio eradication initiative.
End Polio is a project of  Rotary International, a global Community Service organization, the only NGO with membership status at the UN, with a 114-year history and counting 1.2 million Volunteers on all continents and another 0.8 million. through partner organizations in the Rotary Family (Rotaract and Interact).

ROTARY YOUTH ART COMPETITION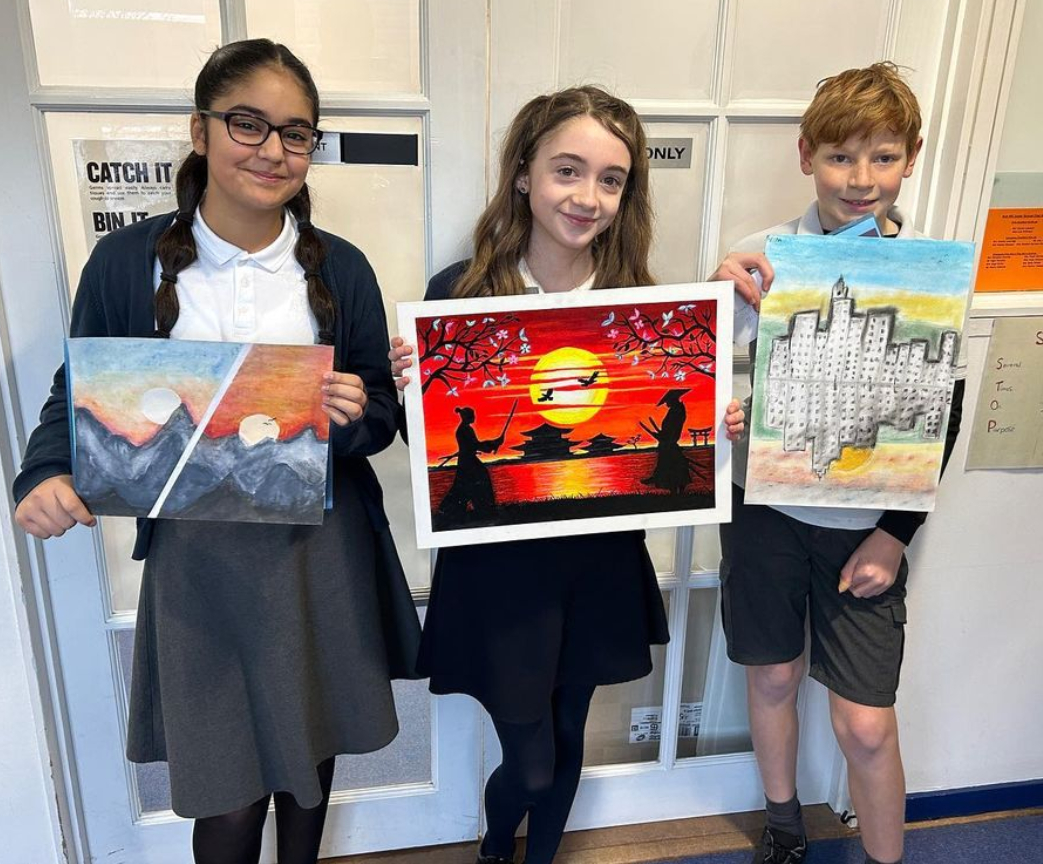 The next competition is for the Rotary Young Chef 'Bake Off' taking place soon at Sun Hill Junior School.


Some 25 Junior School students entered the recent Alresford Rotary Club Youth Art Competition. Such was the quality of the entries, that the club enlisted the help of local artist Julie Hepenstal to make the final decision.
Rotary president David Marshall attended Monday assembly to present book token awards to Lauren, William and Nia, and Lauren's winning entry will be submitted to the Regional and possibly the National Rotary competition.
'They display drawing skills, great use of colour and imaginative ideas. Well done everyone who entered. Keep painting ' – some of Julie's comments.
Thanks to Amy Craig, the Perins MAT, and Julie Hepenstal http://www.juliehepenstalart.uk